Tried & True Tattoo Aftercare
The original and still the best.
Free U.S. Shipping Over $50
Fast, free delivery to your door.
Gentle On Skin & Soul
Certified Vegan & Cruelty-Free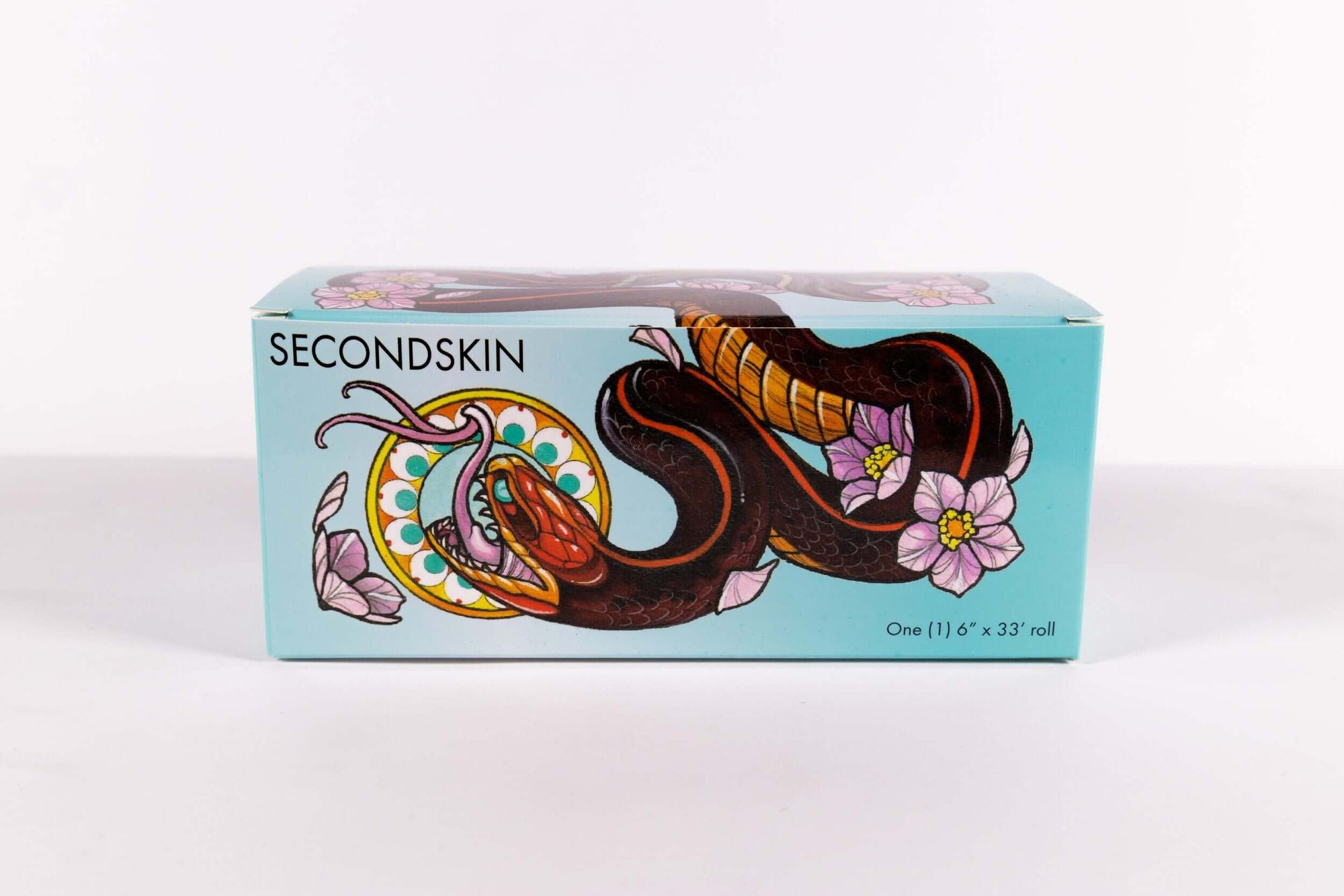 (12x) SecondSkin™ Original Tattoo Bandage Roll
Regular price
$443.40
Sale price
$354.95
Unit price
per
Buy wholesale and save nearly 20% versus buying each product individually! The original tattoo bandage - and still the best! SecondSkin™ is a medical-grade, transparent, adhesive barrier that protects new tattoos while they are healing. It is latex-free, waterproof, breathable, and hypoallergenic.
check_circle In Stock
cancel Sold out
Free Pick Up at Shop location — (824 South 400 West, Salt Lake City)

Usually ready in 24 hours —
Free delivery — on all orders over $50!
Secure checkout with
Product Features

Better healing, brighter colors, darker blacks
Easy to apply and remove
Skin remains healthy and protected while healing your new tattoo
High quality ingredients, gentle on skin
Hypoallergenic and latex-free
Waterproof
Breathable
Sterile
Ingredients

Polyurethane, Acrylic Polymer Adhesive, Disposable Paper or Film Quick Release Liner
How to Apply

Clean and dry the tattoo thoroughly.
Cut the SecondSkin™ to the desired length and shape, using multiple pieces overlapped at least one inch if needed. You should account for an extra inch on each side of the tattoo to cover un-tattooed, dry skin.
"Crack" the wave by bending the piece in half at the blue stripe.
Expose the sticky side by peeling off the backing printed with "SecondSkin".
Smooth SecondSkin™ over the tattoo pushing out any air bubbles.
Remove supportive clear backing by peeling from the blue "wave" and smoothing over skin.
How to Remove

Peel up an edge or corner of SecondSkin™. If this proves difficult, you can attach medical tape to the corner of the film to help lift it.
Slowly pull the film off. Do not pull it straight up away from the skin. Instead, pull the film back and across the skin while holding your skin taut.
Additional Information
In the first 24 hours, there may be a build up of plasma under the SecondSkin™. This is completely normal. If so, remove the bandage and reapply a new clean one. Once you remove our SecondSkin™ bandage, keep your tattoo clean and start using our aftercare cream as needed.  
You may experience some redness around the tattoo where SecondSkin™ was applied to the un-tattooed skin. This is also completely normal and may occur with any type of medical adhesive. If you do develop an adverse reaction on the tattoo, discontinue use immediately.
Video Application Instructions
awesome product
This sells the best of any item like it in my store !