Tried & True Tattoo Aftercare
The original and still the best.
Free U.S. Shipping Over $50
Fast, free delivery to your door.
Gentle On Skin & Soul
Certified Vegan & Cruelty-Free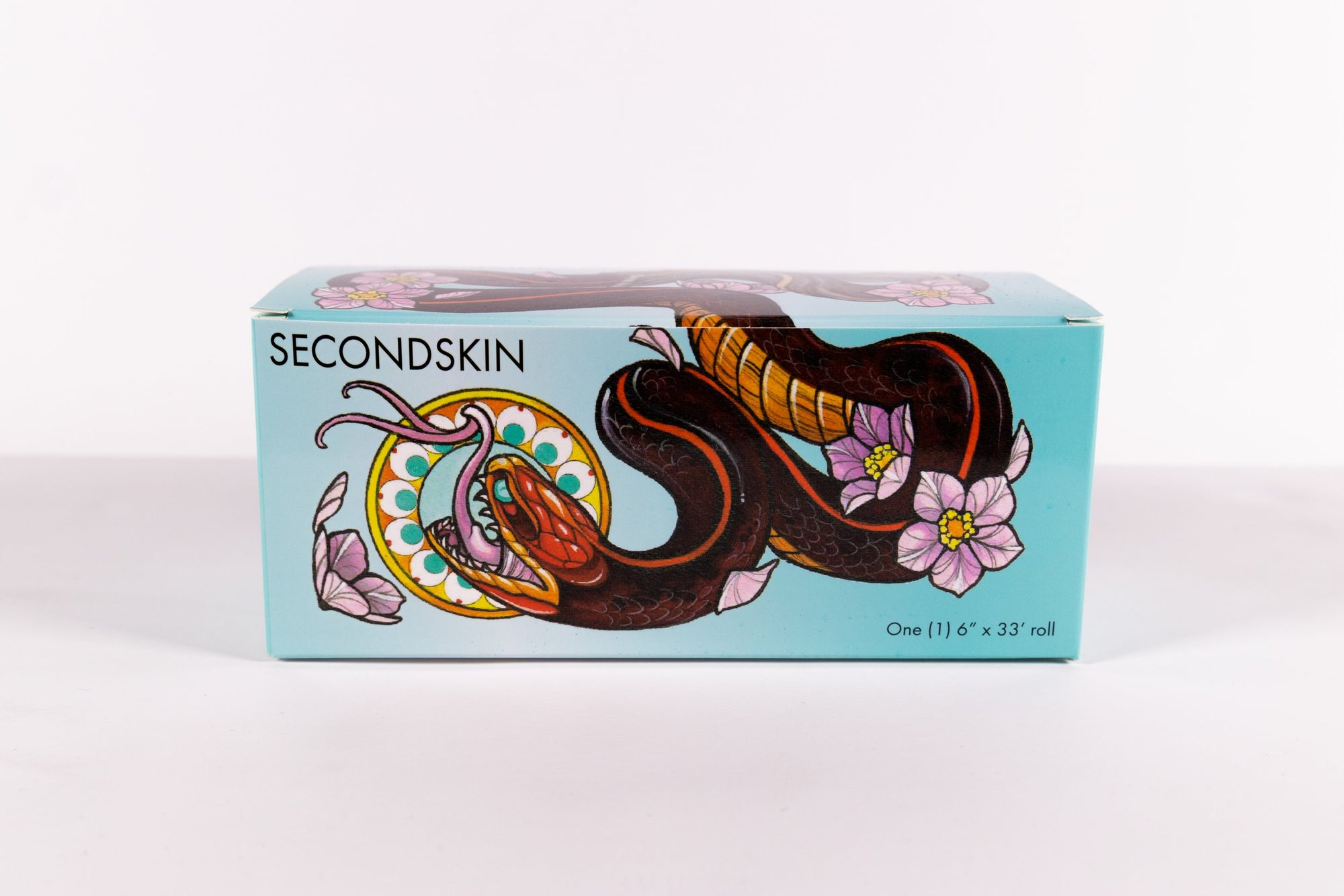 SecondSkin™ Original Tattoo Bandage Roll
Regular price
Sale price
$36.95
Unit price
per
The original tattoo bandage - and still the best! SecondSkin™ is a medical-grade, transparent, adhesive barrier that protects new tattoos. It is latex-free, waterproof, breathable, and hypoallergenic.
check_circle In Stock
cancel Sold out
Free Pick Up at Shop location — (824 South 400 West, Salt Lake City)

Usually ready in 24 hours —
Free delivery — on all orders over $50!
Secure checkout with
Product Features

Better healing, brighter colors, darker blacks
Easy to apply and remove
Skin remains healthy and protected while healing your new tattoo
High quality ingredients, gentle on skin
Hypoallergenic and latex-free
Waterproof
Breathable
Sterile
Ingredients

Polyurethane, Acrylic Polymer Adhesive, Disposable Paper or Film Quick Release Liner
How to Apply

Clean and dry the tattoo thoroughly.
Cut the SecondSkin™ to the desired length and shape, using multiple pieces overlapped at least one inch if needed. You should account for an extra inch on each side of the tattoo to cover un-tattooed, dry skin.
"Crack" the wave by bending the piece in half at the blue stripe.
Expose the sticky side by peeling off the backing printed with "SecondSkin".
Smooth SecondSkin™ over the tattoo pushing out any air bubbles.
Remove supportive clear backing by peeling from the blue "wave" and smoothing over skin.
How to Remove

Peel up an edge or corner of SecondSkin™. If this proves difficult, you can attach medical tape to the corner of the film to help lift it.
Slowly pull the film off. Do not pull it straight up away from the skin. Instead, pull the film back and across the skin while holding your skin taut.
Additional Information
In the first 24 hours, there may be a build up of plasma under the SecondSkin™. This is completely normal. If so, remove the bandage and reapply a new clean one. Once you remove our SecondSkin™ bandage, keep your tattoo clean and start using our aftercare cream as needed.  
You may experience some redness around the tattoo where SecondSkin™ was applied to the un-tattooed skin. This is also completely normal and may occur with any type of medical adhesive. If you do develop an adverse reaction on the tattoo, discontinue use immediately.
Video Application Instructions
Great product!
I like it better than many of the other similar products like tegaderm. It's more natural and vegan therefore I believe it may have less adhesive allergies for client's using it.
The very best way to heal your tattoo
I bought two rolls a couple of years ago and chose Second Skin as it was recommended by my tattooist as being the best.
I have always had a very difficult time with tattoo healing. I have atopic dermatitis and very thin dry skin due to decades of hydrocortisone use.
That was until I discovered Second Skin.
I have now had the confidence to get a large scale tattoo on my back, calves and thigh.
I have never had an allergic reaction and it is quite easy to apply and gently remove without pain or damage to my ink. It is so soothing to wear and ensures my new tattoo stays clean and safe from infection.
One really amazing part is all of my tattoos healed within 5 days with minimal peeling...it used to take weeks!
I highly recommend anyone getting a tattoo tries this even if you heal easily.
Best tattoo healing product on the market!
I heard of second skin when a tattoo artist friend in Florida posted about it . My tattoo artist in Iowa had never used it and didn't know anything about it. I ordered a roll and scheduled my 9 hour upper arm tattoo. My piece was done in 3 sessions and my artist helped me apply second skin each time. If you see plasma build up in the first 24 hours you are to remove the second skin, clean the area and reapply. I did not need to do this as I didn't see plasma build up. What I did see was rapid healing! I had no worry about my clothing touching fresh ink & it never got wet when showering. I stuck on my second skin and left it until it began to come of naturally . As someone who gets very dirty at work the ability to move forward without the thought of my tattoo getting dirty was a game changer in itself. This is the best healing I've ever experienced and my color is so vibrant ! I've used second skin on every tattoo since and now my tattoo artist uses it with all of his clients! Thank you second skin!! You changed the game !
Perfect - always!
Ever since I got my other shin tattooed with a black-heavy piece, I've been using second skin. It works every time, relives the itch I normally get and there's not a scab in sight. If you're a collector, get yourself two rolls. Same with my fellow neighbours of the north, save a few bucks on shipping and buy 2 rolls. I always round the edges of mine so they don't "doggy-ear" when I have it on for the week. Go get some!
Exceeded Expectations!
This is by far the best thing I've ever used to protect new tattoos. It's pretty easy to apply and makes the first few days of healing go so smoothly by being comfortable and extremely protective.